Jobs

Career ahead

By its very nature retail is a fast-moving industry as organisations try to respond to customer demand and future trends. But if you think that a career in retail is limited solely to the shop floor, think again.
Working in a bustling, successful retail environment such as Marriott's Walk can lead to an interesting, varied and rewarding career. No two days are the same at Witney's premiere shopping destination. Check back here regularly to see the latest vacancies.

FAT FACE/VACANCIES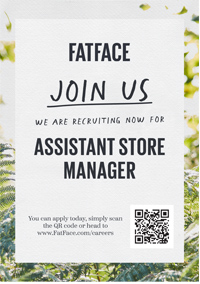 Role: Assistant Store Manager
Location: Witney
Job type: Permanent, Full-Time (40 hours)
recruitment@fatface.com



Job: Store Crew
Location: Witney
Job Type: Permanent, Part-Time (12 hours)
recruitment@fatface.com Job: Store Crew
Location: Witney
Job Type: Temporary (3 months), Part-Time (Saturdays & Sundays)
recruitment@fatface.com

 We're a passionate and energetic bunch with a great 'work hard – play hard' attitude.