Caffè Nero
Unit 1, Marriotts Walk, Witney, Oxfordshire  Call 01993 849731
Opening hours
Mon-Fri 07:00-18:30
Saturday 07:30-18:00
Sunday 8:00-17:30
Caffè Nero is the UK's famous coffee chain serving authentic Italian coffee in a pleasant and relaxed environment. The coffee shop also offers pastries, cakes and muffins, as well as Mediterranean-style sandwiches and panini.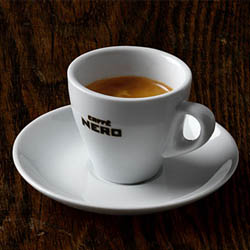 Espresso
A single espresso consists of 7 grams of coffee, tamped just right. The espresso should pour out of the handle like 'honey off a spoon' -not too fast and not too slow. When our baristas train in making espresso they time their pour. The perfect espresso will have a good golden brown 'crema' which reforms when stirred.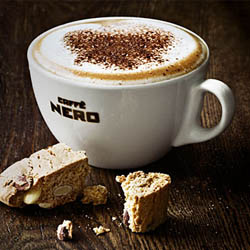 Cappuccino
The classic Italian morning tradition. Our unique blend of espresso combined with steamed velvety milk and sealed with a frothy dome. And yes you can have a light dusting of chocolate powder which provides an optional finishing touch although most Italians would refrain!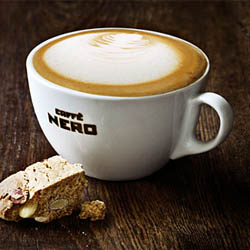 Caffè Latte
The all day classic. A strong base of our rich and tasty espresso, blended with plenty of steamed milk and finished with a layer of milk froth, creates a wonderful flavour.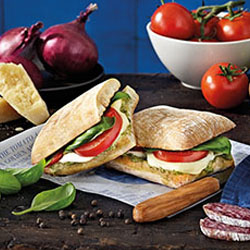 Panini
Our range of Panini bread sandwiches has been the backbone of our sandwich range for many years now. We use bread made using the principles of an old Italian method and fresh fillings inspired by Italian recipes and ingredients.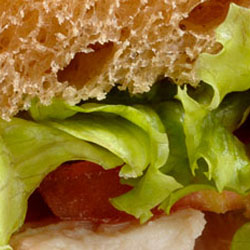 Sandwiches
Our philosophy has been to find interesting bread baked by real bakers and top quality fresh ingredients, which together can make a superb sandwich.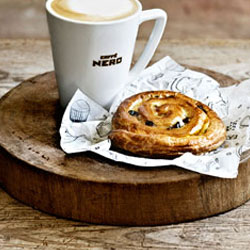 Pastries & Muffins
Viennoiserie to be more exact. Our Butter Croissant, Pain au Chocolat and Pain au Raisin are imported from France. Caffè Nero muffins are made to our exact recipes – blueberry muffins bursting with blueberries, and we only use Belgian chocolate in the Triple Chocolate Muffin.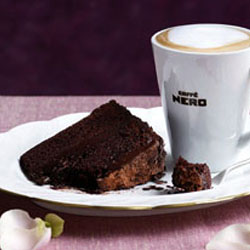 Cakes, Desserts & Biscuits
Most of our cakes, desserts and biscuits are created for us to our own Caffè Nero recipes. We provide a wide variety from our classic Chocolate Fudge Cake, to the Italian Panettone and the chewy Triple Chocolate Cookie – you should find your perfect sweet treat to enjoy with your coffee.
Porridge
Our porridge is freshly made for you using premium Scottish oats and your choice of milk – semi skimmed, skimmed or soya, or even water if you prefer. For a topping, we have complimentary brown or white sugar, or an optional extra would be your choice of maple sauce or berry compote.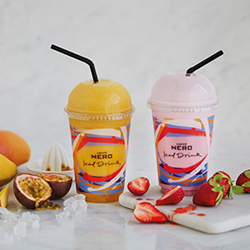 Fruit Boosters
Iced, fruity and naturally refreshing, our Fruit Boosters are freshly blended with ice. Delicious, thirst quenching and 99% fat free! We do not use any artificial colours, flavours or sweeteners and there are no dairy or gluten ingredients in our Fruit Booster recipes.