REOPENING THE CENTRE
After months of us all doing our bit to give this virus a good stamping down, we're ready to safely get back out there – shopping, eating, drinking, stretching ours legs, seeing friends and family. Basically, start to feel slightly more normal again!
That means our spacious, open-air centre will be ready when you are to return from April 12 to enjoy our shops & restaurants. Our trusted Covid-19 safety systems will still be in place for the next few months to make sure you are – and feel – safe while shopping here, so please see below. Please always wear a face covering in all our stores/cafes unless exempt
Our toilets will also reopen
It's essential everyone follows the rules and systems that we have in place – thank you in advance for doing so. Thanks to Marriotts Walk being an outdoor centre, it means we have plenty of space on our large, wide malls. We've installed lots of posters, banners, stickers and barriers reminding you of the rules throughout the centre. If in doubt, read them or ask one of our team. If you/loved one require additional help, we'll always do our best to help you.
So what can you expect to see? Here are the highlights:
One-way systems on the mall – always enter on the right, stay on the right, stay in your marked lane & stay at least 2m from other people
Arrows and signage will help point you in the right direction of where you need to go
Stores will have limited capacity for queuing so if requested please queue outside the store and keep 2m apart
What happens inside stores is directly the responsibility of each store, so please follow their rules and systems
Maximum 2 people or 1 family to a lift. If you are not from the same household, please stand as far apart inside the lift as possible
Our toilets are open 7:30am to 5:30pm and please wear a face covering (unless exempt) before entering the toilets for other people's safety to help stop the spread of the virus
Please be kind to our staff on duty as they have a very difficult job, thank you
Hand sanitizer will be available in key areas by our lifts and in stores
Please always listen to and follow the advice of all staff. They have a very hard job to do, but with your help it will be made much easier and everyone can have a good time and do what we all love – shop!
Our centre team will be doing extra cleaning of key touchpoints (e.g. handles, rails, keypads) and the centre has an updated detailed risk assessment so we are in line with strict Government guidance on reopening retail. You may see some of our staff wearing Personal Protective Equipment (PPE) at times like masks, visors and gloves, but don't worry – this is just for everyone's safety.
Stores will need to do their own Government risk assessment and be cleared as Covid-19 Secure. So extra safety, cleaning and social distancing measures will be in place in all stores.
We almost don't need to say this because our shoppers are absolutely fabulous. But we must make is clear we have a zero tolerance approach to anyone visiting the centre who becomes angry, abusive, anti-social or violent towards any staff or customers. Anyone behaving like this will be asked to leave and could face action by the police, who we work with on a daily basis.
And finally…THANK YOU! The safety of all our wonderful shoppers and staff is absolutely our priority and with everyone's help we can play our part in keeping people safe, giving the economy a boost and enjoying shopping!
This is a live situation and changing regularly due to the impact of Covid-19 and Government guidance, so everything is subject to change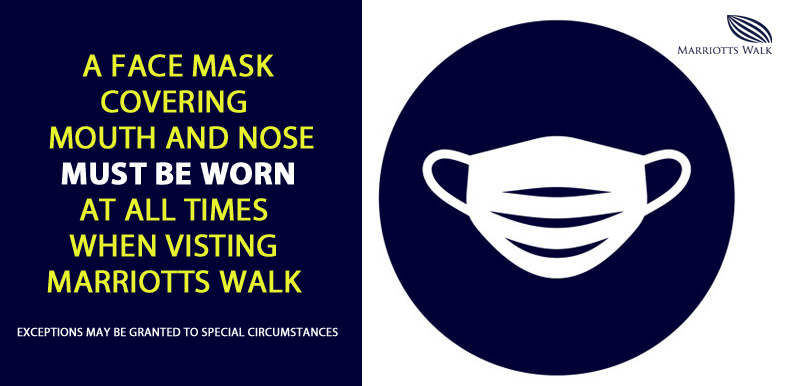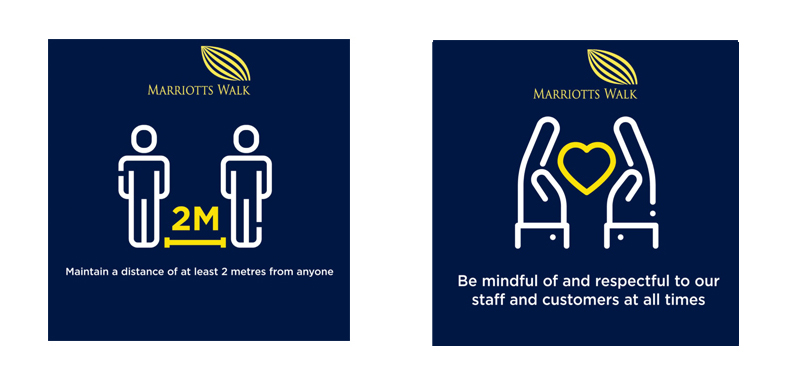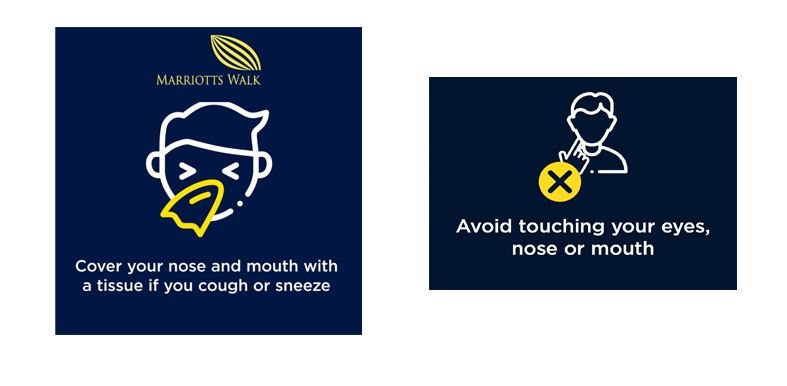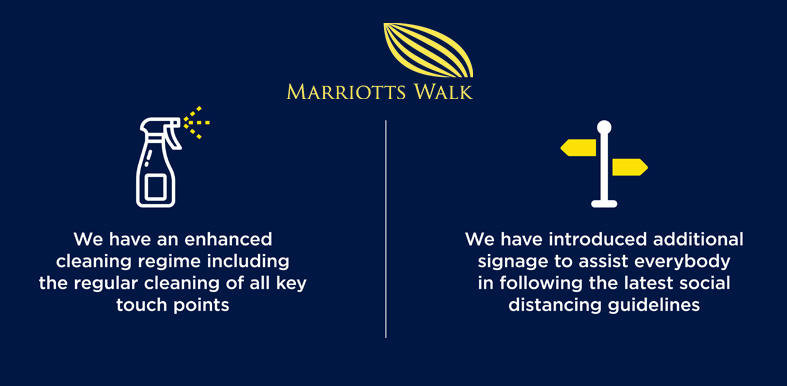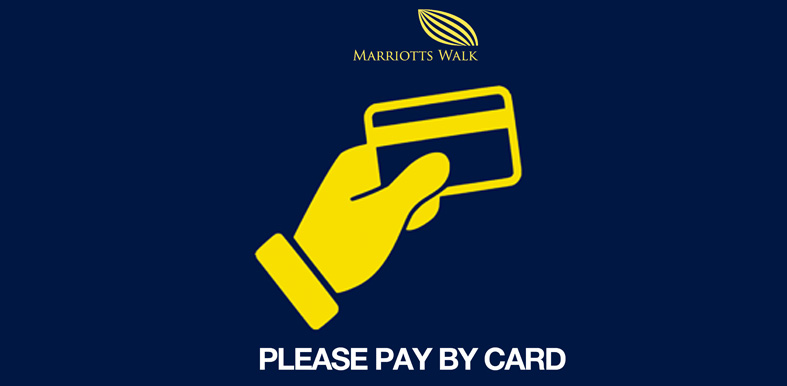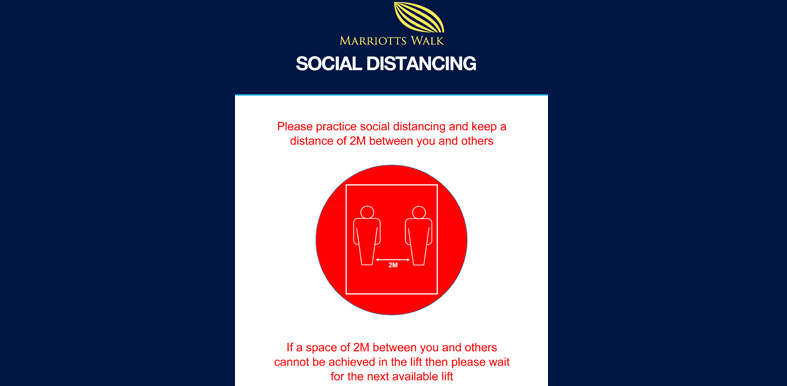 Car Park
The car park is operating normally, please follow the directional signage.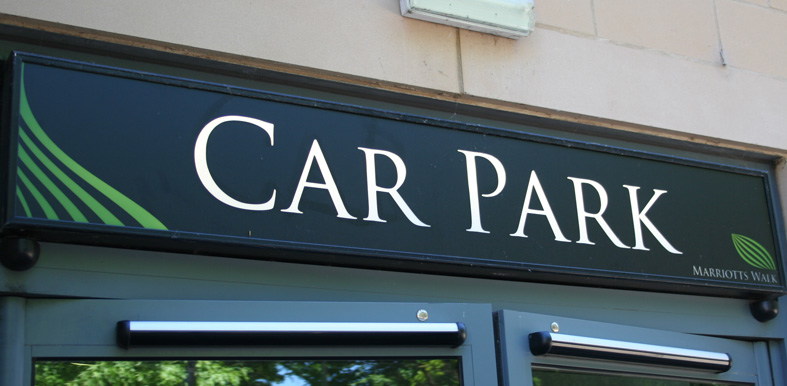 .

MARRIOTTS WALK YOUR LOCAL, FRIENDLY, EATING, DRINKING, ENTERTAINING SHOPPING CENTRE
HERE FOR YOU.
---
Share this post