"How do I love thee? Let me count the ways at Marriotts Walk"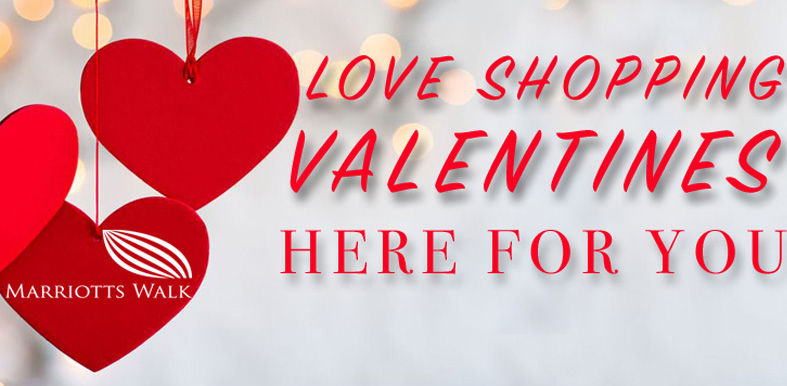 Valentine's gifts and experiences
 

There are twenty one ways that Marriotts Walk can love thee this Valentine's Day as our retailers, eateries and businesses have been busy preparing esteemed concoctions for you to share with your true sweetheart.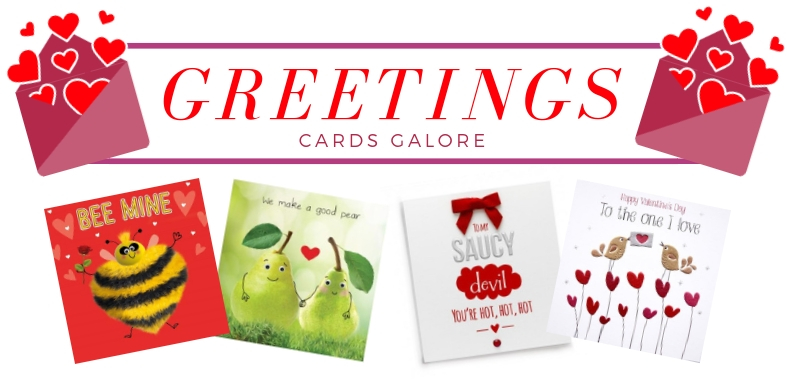 Greetings cards galore
Whether you're searching for adorable words of wisdom, soppy slush or a raunchy rhyme, Fresh Cards and Gifts have a huge selection of Valentine's cards to choose from. Check out their quirky gifts and fun-filled ideas while perusing the card shelves – you're guaranteed a chuckle or two.
Say it with tasty delicacies
"If music be the food of love, play on." Shakespeare
The love of your life, the queen or king of all hearts deserves to celebrate feelings of devotion on Valentine's Eve. And may it be full of tantalisingly fruity moments or cosy-up cuddles with a special gift set from Whittard of Chelsea who has lovers of hot cuppas covered.
If you're staying in this year, M&S is your first choice with their alluringly delicious yet affordable Valentine's meal deals for a mere £20.00 – although you'll have to wait until 12 February before the exclusive range is revealed.
Expect rump steaks, seabass fillets and Coquille St Jacques with a choice of starters, sides, desserts and a bottle of finest wine – cheers.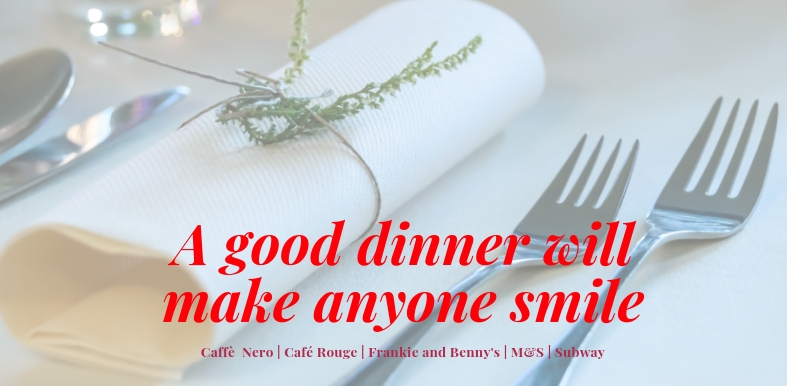 A good dinner will make anyone smile
"One cannot think well, love well, sleep well, if one has not dined well." ― Virginia Woolf
 You won't need to venture into the big city for A-class cuisine and a night to remember. Café Rouge and Frankie and Benny's at Marriotts Walk have a dedicated menu for couples to enjoy whilst staring longingly into each other's eyes.
 Enjoy a three-course meal for only £24.95, including bubbly at Café Rouge from 9-17 February.
 If you're enjoying a daytime adventure with your soul mate, be sure to grab something sweet and fancy and enjoy an authentic Italian atmosphere at Caffè Nero or a superb meal deal at Subway.
 Remember, the big screen never fails to provide a romantic movie to mesmerise happy couples. Check out the latest listings at Cineworld Witney and book early to avoid disappointment – the cinema is hugely popular for Valentine's date night. There's just something about holding hands in the dark.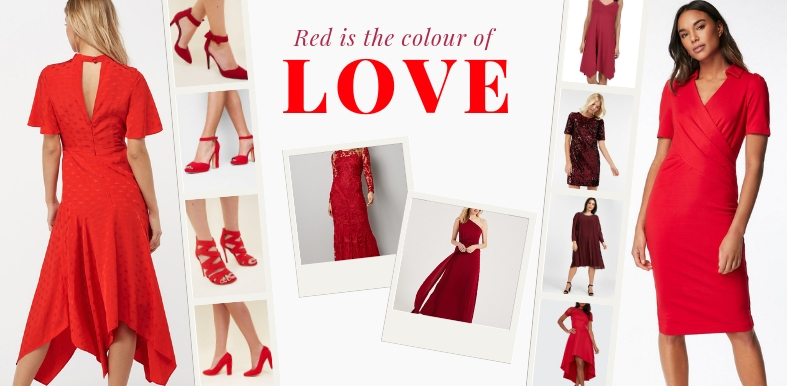 Red is the colour of love
Of course we love red for the ladies this February (any time of year in fact). The colour shouts vivaciousness, energy and excitement. Red is often referred to signify feelings of passion and desire so we're sure these outfits from the Marriotts Walk highstreet brands will set the pulse racing:
It's interesting to learn that research suggests women find men wearing red (or near red) more attractive and desirable. It also implies they are perceived to have a higher status.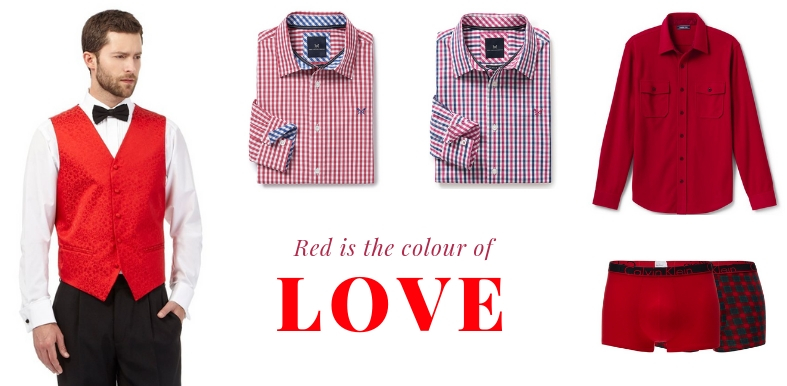 With that said
red is a powerful emotive colour

and is the tone of masculine energy so we've spied a few outfits for the distinguished gentlemen at Crew Clothing and Debenhams.
Remember fellas, if
red

is a tad too 'in your face', try

pink

as an expression of softness or even

peach

to communicate playfulness.
The perfect maternity outfit
For the ladies who have already found the love of their life and are waiting for the arrival of a new family member, you can still enjoy a special night out to celebrate. We've spotted these charming maternity dresses, perfect for the Valentine's night out from JoJo Maman Bébé.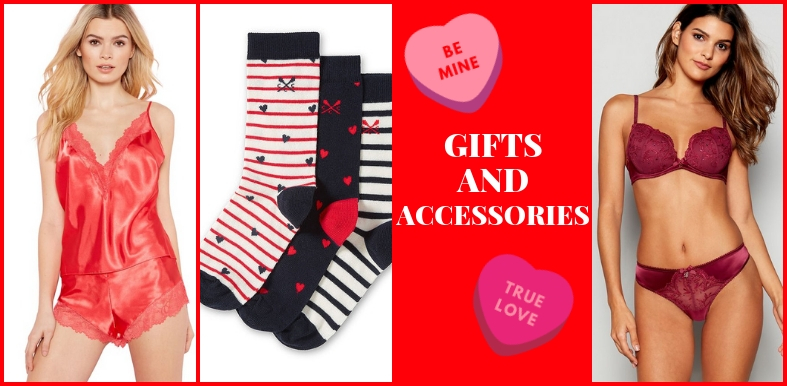 Not forgetting gifts and accessories
Bunches of roses, sophisticated chocolates, expensive jewellery and cuddly bears express 'I love' you on Valentine's Day but aside from these traditional 'safe players' we've found a few unusual treats – gorgeous genuine leather heart belts from FatFace; cutesy heart socks from Crew Clothing; and nightwear and undies from Debenhams.
 Also, show your appreciation to BFFs with these wonderful gifts from Accessorize – perfect for youngsters.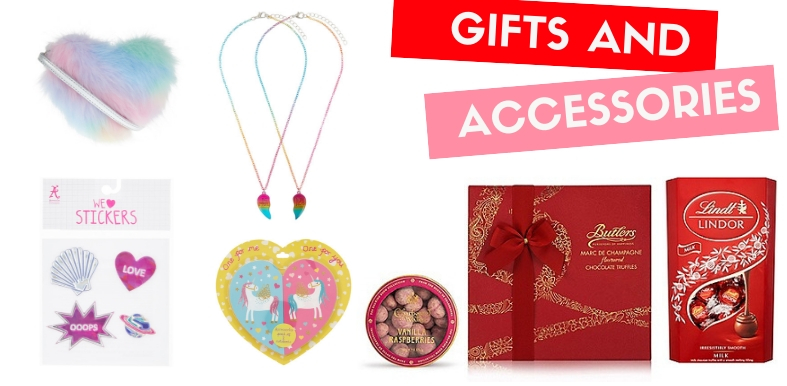 Show your pooch some love this Valentine's Day with a luxurious and insulated waterproof and windproof coat spotted in Trespass, available in sizes from XXS to XL to suit any dog.
Whatever you have planned this Valentine's Day may you enjoy every minute of it with loved ones, friends and family. And if you do pop the big question (or say yes), we'd love to know!
NB: Clothing available and correct at the time of publishing this article. From time to time stocks may be unavailable or ranges discontinued at the Witney stores.
---
Share this post